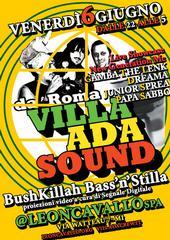 By: johnhammond
April 6, 2008
Categories: Events
VILLA ADA @ Leonka MILAN. ITALY. APRIL 2008.

Great evening and great dancehall Leonkavallo to Milan with VILLA ADA CREW Raina and Ginko, again thanks to the production of DVDs for Bushkilla and with the help of SEGNALE DIGITALE.
The entire evening 'was recorded and edited and mixed by SEGNALE DIGITALE and time is made available for all the massive, play loud !!!!!