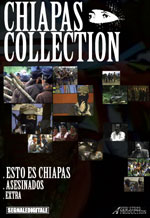 BARCELLONA, Spagna – TORONTO, Canada, July 2012
SEGNALE DIGITALE & A FEW STEP PRODUCTIONS, for the summer 2012 make available , for an online play in STREAMING or for DOWNLOAD, all the material in the VIDEO section together with new works, old videos and unpublished stuff. We start with the documentary "This is Chiapas", 1997, 42 min, "Asesinados" 1999, 12 min. and " Let's talk about politics" 1996,10 min.
All are a part of the "Chiapas Collection" DVD with all video works by SEGNALE DIGITALE and A FEW STEPS PRODUCTIONS, from the middle nineties until 2000, pointed on analysis and testimonies about of the life conditions for indios of Chiapas, Mexico.