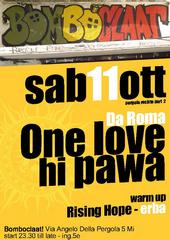 By: johnhammond
October 11, 2007
Categories: Events
MILAN.ITALY. OCTOBER 2007.
PergolaMove – AwhoDem have proposed another incredible Dancehall …… for the first time in Bomboclat @ Pergola sound legendary reggae European POW POW SOUND SYSTEM, collective historical German first in Europe has produced riddim for singers European and Jamaican.
The entire event was recorded by SEGNALE DIGITALE with the help of DVD and thanks to the help of B.TEam, and now always be edited and mixed SEGNALE DIGITALE is made available to all massive, play loud !!!!!