By: johnhammond
June 22, 2023
Categories: Events
MILANO, GIUGNO 2023
PERGOLA LIVE & Last Night In Pergola
Con la pubblicazione in italiano del libro Sonic Intimacy di Malcom James, Segnale Digitale vuole presentare una nuova pagina con tutti i file registrati dal 2004 al 2009 in Bomboclaat! comprendenti anche i file riguardanti la mitica serata di chiusura con artisti da tutta la penisola.
Il libro Sonic Intimacy di Malcom James si apre con un contributo specifico sulla Sonic Intimacy in Italia che noi in prima persona abbiamo vissuto in Pergola a Milano di cui possiamo dare un estratto….
THE PARTY IS REALLY OVER
di BushKilla Sound
Per non farci sopraffare dalla tristezza, abbiamo deciso di organizzare
un ultimo open party per salutare tutti coloro che in questi vent' anni
hanno varcato il portone di via della Pergola,
godendo di tutto quello che questo spazio ha saputo dare.
Dal volantino della serata in Pergola del 24 gennaio 2009
Master Of Ceremony:
SKYWALKER (Bass Fi Mass)
Line Up Bomboclaat!
BASS FI MASS / Milano,
BIG BELLY BWOY / Bologna,
BUSHKILLA / Milano-Catania,
DANCEHALL SOLDIER / Roma,
DJ FADE / Milano,
GINKO / VILLA ADA POSSE – Roma,
GODZILLA / Bologna- Siracusa,
I-SHENCE / Perugia,
LA FAMIGLIA / Catania,
MAD KID / Bologna – Taranto,
MACRO MARCO / GRAMIGNA SOUND – Roma,
NORTHERN LIGHTS / Udine,
NUTTY POLDO / Milano,
PATO / WADADA SOUND – Rimini,
RIVER NILE / Gambia,
ROOTS INNA MIX / Taranto – Pescara,
SKOOL BWOY / Firenze,
TARANTOLA SOUND / Torino,
TLD CREW / Taranto,
UKKU BEAT / Milano,
VITO WAR / Milano
WOSSA aka THE CHEF / Milano
Special guests :
TERRON FABIO, DON RICO,NANDO POPU (Sud Sound System)
Il flyer concepito con tecnica shibumi da GGT nascondeva, tra le righe degli innumerevoli artisti in
line up provenienti da ogni angolo dello stivale, una triste verità.
L' ultima danz nella yard più storica di Milano per celebrare decenni di vibrazioni positive.
Alle prime luci dell'alba la casa occupata di via della Pergola avrebbe cessato di esistere.
La Bass Culture milanese avrebbe perso la sua corner stone.
Cosa sarebbe rimasto della sua sonic intimacy?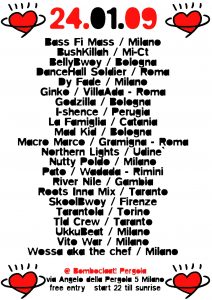 Non avevamo tempo per pensare alla risposta. La serata stava per iniziare. Non era la solita
dancehall, tutto era stato settato per dare il saluto finale al quartiere Isola, un party terminale
collettivo, vibrante e rumoroso, con ingresso gratuito e senza orario di chiusura programmato, con
tanto di fuochi d'artificio forniti da Rip Bob, il dealer ufficiale della zona.
Fuori la folla sempre più numerosa aspettava l'apertura del cancello blu cobalto, famoso per le
sneakers appese sopra i cavi della corrente ma reso irriconoscibile da un enorme cuore rosso con la
sua orbita planetaria dorata realizzato dai poliedrici scenografi veneziani, ultima evocativa
istallazione delle innumerevoli donate da loro nel corso degli anni.
All'interno le diverse crew cercavano di colmare gli imprevisti organizzativi, quasi sempre presenti
in un grande evento completamente autoprodotto. La potente dose di bassi ad alto volume dei sound
systems iniziava ad emettere profonde vibrazioni……..