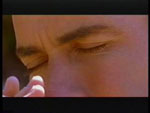 By: segdevadm
April 16, 2003
Categories: Video
O Solitude
2003, 4 min.
Directed by Elio Gelmini
Production: A Few Steps Production & Segnale Digitale
Editing: Elio Gelmini
Sinopsys
"O Solitude" is a short film that gives a poetical vision of a point of view of life.
In a public park, at the margin of ordinary life, past and present moments of the protagonist meet, they vanish, they appear, they narrate.
They are there to witness the hard facts of life and solitude and to remember that life is not a joke. Some verses of John Keats sets them in a place without time.