By: johnhammond
June 22, 2023
Categories: Events
MILANO, GIUGNO 2023
PERGOLA LIVE & Last Night In Pergola
With the Italian version of the book Sonic Intimacy by Malcolm James, Segnale Digitale wants to present a new page with all files recorded "live" during events in Bomboclaat! Between 2004 to 2009, also including the files relating to the legendary closing evening LAST NIGHT In PERGOLA with artists from all over the peninsula.
The book Sonic Intimacy by Malcolm James, opens with a specific contribution on Sonic Intimacy in Italy that we personally experienced in the Pergola in Milan of which we can give an extract…
THE PARTY IS REALLY OVER
di BushKilla Sound
In order not to be overwhelmed by sadness,
we decided to organize a last open party to say goodbye to all those
who in these twenty years have crossed the gate in via della Pergola, e
njoying all that this space has been able to give.
From the flyer of the evening in the Pergola on January 24, 2009.
Master Of Ceremony:
SKYWALKER (Bass Fi Mass)
Line Up Bomboclaat!
BASS FI MASS / Milano,
BIG BELLY BWOY / Bologna,
BUSHKILLA / Milano-Catania,
DANCEHALL SOLDIER / Roma,
DJ FADE / Milano,
GINKO / VILLA ADA POSSE – Roma,
GODZILLA / Bologna- Siracusa,
I-SHENCE / Perugia,
LA FAMIGLIA / Catania,
MAD KID / Bologna – Taranto,
MACRO MARCO / GRAMIGNA SOUND – Roma,
NORTHERN LIGHTS / Udine,
NUTTY POLDO / Milano,
PATO / WADADA SOUND – Rimini,
RIVER NILE / Gambia,
ROOTS INNA MIX / Taranto – Pescara,
SKOOL BWOY / Firenze,
TARANTOLA SOUND / Torino,
TLD CREW / Taranto,
UKKU BEAT / Milano,
VITO WAR / Milano
WOSSA aka THE CHEF / Milano
Special guests :
TERRON FABIO, DON RICO,NANDO POPU (Sud Sound System)
The flyer conceived with the shibumi technique by GGT hid, between the lines of the countless artists in line ups from every corner of the boot, a sad truth. The last dance in the most historic yard of Milan to celebrate decades of positive vibes. At the first light of dawn the occupied house in via della Pergola would have ceased to exist. The Milanese Bass Culture would have lost its corner stone. What would remain of his sonic intimacy?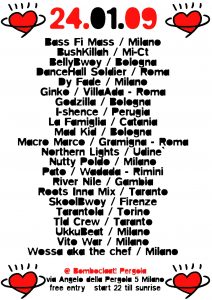 We didn't have time to think about the answer. The evening was about to begin. It wasn't the usual dancehall, everything had been set up to give the final farewell to the Isola neighborhood, a terminal party collective, vibrant and noisy, with free admission and no scheduled closing time, with lots of fireworks provided by Rip Bob, the area's official dealer. Outside, the ever-growing crowd awaited the opening of the cobalt blue gate, famous for the sneakers hanging above the power cables but made unrecognizable by a huge red heart with the its golden planetary orbit created by the multifaceted Venetian set designers, last evocative installation of the countless donated by them over the years. Inside, the various crews tried to fill the organizational contingencies, which were almost always present in a large, completely self-produced event. The powerful dose of loud bass of the sounds systems began to emit deep vibrations……..