Release Date: January 11, 2007
0 Comments | Categories: Music
Lecce, Jan 11, 2007

Original Salento Dancehall Vol.3 is the natural prosecution of volumes 1 and 2 , two demo cds collecting the recorded sound reports of the dancehall organized by WARSOUND in collaboration with SEGNALE DIGITALE at club Mediterraneo, on the coast road of S.Foca near Lecce the 10th of August 2006, the italian St.Lawrence night.
The Volume 3 consists of more than one hour of music, live mixed by Dj War with no vocal breaks, setting the classic irie atmosphere of dancehalls on the beach and calling up once again all soundboys from Salento and many other italian crews spending their summer in the "Italian Jamaica".
The selection passes from hardcore dancehall through roots music, raggamuffin and classic reggae, getting right in the future with the latest digital riddims, and giving a clear cross-section of a dancehall night on Salento beaches!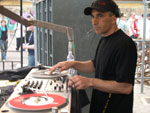 AUDIO FILES ON LINE:
The following file is available for download in mp3 format:
OriginalSalentoDancehall vol.3
REVIEWS:
I resolutely believe that the role of veterans in the scene, those veterans who are in it since we could remember, is to string together a fundamental musical heritage with an actuality which is showing up many other possible directions, to set something as evident, for instance that a new hit by elephant man gets exactly in time with a classical tune by Shabba Ranks, being almost its ideal prosecution.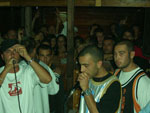 Dj War, one of the most respected masters of reggae and hip hop movements in Italy , succeeds in this job by making this mixtape for SEGNALE DIGITALE. This work actually consists in the fixing up of three megamixes selected at their best, and tracing many other shades of dancehall music.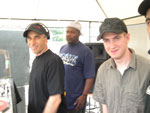 We listen to rarities coming out of the magic box of this selecta from Salento, records which need an archaelogist of reggae music to be dated and tunes of a proto-dancehall past sounding fresh even in our time.The mix also contains selections of recent riddims, played in the wise way of someone who well knows the riddims we will remember even in the next ten years. An hystorical teaching and a bright vision of actuality served in an eaasy cd edition to feed your cd players and better get straight to your ears.
Andrea Mi