Release Date: March 17, 2007
0 Comments | Categories: Music
Milano, Mar 17, 2007

SEGNALE DIGITALE in collaboration with PergolaMove – AwhoDem presents the demo-cd "New day will come", recorded in Bomboclat@Pergola during the 2007 New Years Eve.
The cd is made by 5 set during 15 minutes from Bushkilla featuring Giadama, Kalimbandulu featuring Pupiddrhru, Karkadan featuring Giadama, Rivernile and TLD featuring Roddi.
Bushkillah Sound System was born in 2002 by the joining of two first class refugees of the italian dancehall movement: Davide-DVD, founder member of I-talsound from Milan and G-Luca, founder member of Gramigna Sound System from Rome.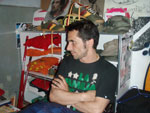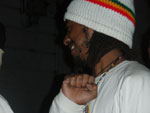 The experiences and knowledges they bring and put together for the foundation of Bushkillah,easily took them in the spotlight in Milan, where they pushed reggae vibes till dawn in the yards of Cantiere and Pergola, and even in the national scene with many important link-ups and collaborations.
Bushkillah, in collaboration with TLD, began to promote many important events in the yard of Cantiere, bringing there most of the uprising soundsystem of that period such as Soundsgood&Mono, Nikitaman, BassFiMass, Goldenbass….. and started collaborating with Roddi and Giadama from RiverNile Sound System.
These events let Bushkillah, TLD and Rivernile get together and set the foundation of "A WHO DEM PRODUCTION", a collective whose aim is to promote reggae music in the well known smoking yard of Bomboclaat Pergola; during the last years the crew dealt up with the planning of saturday night reggae events in Bomboclaat Pergola, bringing there some of the most reliable sounds, djs and singers of the italian reggae movement such as OneLoveHP, Gramigna, DjWar, Villada Posse, SismaSound, Moddi Mc, Madkid, RootsinnaMix, FidoGuido, GhettoEden, Kalibandulu, Bleizone…..
Not to be forgotten is the experience of DVD from Bushkilla,that together with Mirko from TLD and Giadama from RiverNile, made possible those many reggae nights full of good vibrations of the past years in Pergola facing many tipycal problems and dangers – also related to personal safety – occurring even in Milan-Babylon by managing a social-artistic centre in this time.