Release Date: April 12, 2001
0 Comments | Categories: Music
Milano, Apr 12, 2001

Milano Streaming Sound is the title of an interactive CD out in 2001, which includes several info and audio mixed files of the best Milanese DJs of the most underground and alternative clubs, cafés, and social clubs of the city. Produced by SEGNALE DIGITALE and distributed especially in the Milan area, it was an initiative that gathered the most active alternative DJs and producers of the time in different musical styles such as funk, hiphop, reggae, tech, jungle & drum'n'bass, deep house and broken beats, giving important testimony to the energy of Milan's vital scene in the late 90s.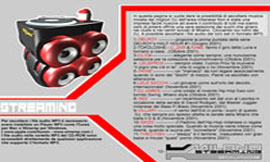 Milano Streaming Sound presents a series a selection of mp3 mixed file, kindly provided by DJ Leleprox, Skizo, Dj Villari, Indi, Painè, Lele Sacchi, Delroy, Dj Em, Dj James,C-zar&Kame, Fish, another 5 hours total, dedicated to record information from some specialized stores in Milan, lists and different information on clubs, alternative cafés and many informative pages on the DJs, producers and independent labels of the Milan area. Some of the mp3 mixed files included in Milano Streaming Sound will be made available shortly in the section dedicated to the streaming of this site.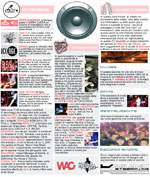 SEGNALE DIGITALE also wants to thank all those who participated in this adventure, those who represented an important moment, unfortunately still isolated, in the grouping and comparison of different realities which, although different, run parallel in the Milanese underground.
AUDIO FILES ON LINE:
The following files are available for donwload in mp3 format:
Indy live@Leonka
LeleSacchi live@MSS
SEGNALEDIGITALElive@MSS
PAINE' live@MSS
LELEPROX live@MSS
djSKIZO live@MSS
djVillari live@MSS