Release Date: May 7, 2007
0 Comments | Categories: Music
Milano, May 7, 2007

First result of the collaboration between DJ Leleprox and SEGNALE DIGITALE is the demo mix-cd "ITALIAN JUNGLISM Vol.1", realised by Leleprox and produced by SEGNALE DIGITALE in 2007, with a dj set which represents the best of international jungle music from the end of 2006 to the beginning of 2007, live recorded live @TurbolenzaRoom.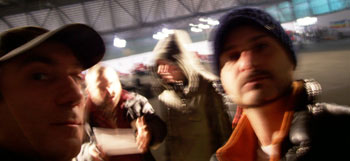 DJ Leleprox DJ is an historical figure in the Italian independent musical movement. He began to be known across Italy and Europe in the end of 1980, as dj and producer of LHP (Lion Horse Posse), one of the first popular hip hop crews in Italy to use italian language in rapping. In 1992 he partecipated in the production of "Curre Curre Guagliò" by 99Posse, and also played and collaborated with many of the "posse" that were rising in the hiphop movement by those years, projecting and producing compilations and benefits; in 1993 he continued his production with the famous Piomboatempo of Lou X and Cuba Cabbal.
After the experience with Piomboatempo, from 1994 he started playing jungle and d'n'b, creating and taking part in the first d'n'b rave-parties of Milan and all the italian mainland, and in more than ten years he became a main element for the jungle culture in Italy. He is actually an active founder member of MICROPLATFORM/THE PLATFORM, an international musical project (www.nuevaradio.org/theplatform) which produced many benefit compilations in the countries of latinoamerica, also running new projects with the rappers Cuba Cabbal e Lou X in the combo UnitàDiCrisi, together with the dancehall and d'n'b productions from "Allarme Rosso" in duo with Cuba Cabbal.
From 2006, supported by the organisation from Kreativitalia he is, once a week with his style and his precision, the resident-dj of the dnb room@Turbolenza, hosting shows of many national and international artists and djs.
AUDIO FILES ONLINE:
The following mixed files by Leleprox are available, courtesy of Leleprox, SEGNALE DIGITALE, and Leleprox Podcast Service:
Summer Jungle Benefit Party @ KioskoLosko 1
Summer Jungle Benefit Party @ KioskoLosko 2
Summer Jungle Benefit Party @ KioskoLosko 3
Live @ Turbolenza 1
Live @ Turbolenza 2