Release Date: December 8, 2004
0 Comments | Categories: Music
Milano, Dec 8, 2004

The meeting and friendship with veteran DJ War leads to initiating and deepening contacts as well as collaboration and helps the SEGNALE DIGITALE crew to enter into the spirit of the Salento reality, which grew with new realities and important events of which WARSOUND was collaborator, organizer and main protagonist thanks to its technical and musical experience as originator of the movement and also thanks to WARSOUND's 10000 watt, memorable installation that heated so many dancehalls from 1995 to today.
Salento's Antonio Conte, alias DJ War, can be considered Italy's distributor of sound system culture and one of its most relevant and credited representatives. Pioneer in the self-building of installations that helped to best appreciate reggae music, he founds, together with Militant P., the first SUD SOUND SYSTEM nucleus (they considered Treble, Papa Gianni and Gigi D at the time), which, in the summer of 1988, organized the first mythical DanceHall on the cliffs and beaches of Salento. From there also began a long and fruitful story that is still going on today. In 1991, came out FUECU/TA' SCIUTA BONA, the first SSS album, named revelation group of the year by the critics. DJ WAR activities coincide with those of SUD SOUND SYSTEM up to 1994.
After the Militant P group appearance, DJ War also goes his own way and builds WARSOUND SYSTEM with which he participates in the most important national Reggae, Hip-Hop and Jungle (R.A.S., FLAVA, JUICE, JUMP UP) shows, promoting and organizing various musical events in Salento and collaborating with the Bologna LINK together with artists such as Soul Lee Bee, Pepsi and dj Gruff. In 2002, he organized DA 'BASS, a three day get-together in Torre dell'Orso (LE), was later in charge of the artistic programming of Suono della Strada in Arnesano (LE) and, always in Salento, in past summers and in different seasons, promoted DANZ with guests of the national and local scene. In the light of the experience of about 20 years of activity, DJ WAR is to be surely considered among the founding fathers of the actual REGGAE – HIP HOP music scene in Italy.
AUDIO FILES ON THE WEB:
Thanks to SEGNALE DIGITALE and WARSOUND the following files are available for listening on line (click to listen!):
RootsSelecta2007 1
RootsSelecta2007 2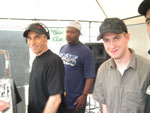 War Project
DJ War Live 1 – 2004
DJ War Live 2 – 2004
DJ War Live 2008 1
DJ War Live 2008 2
DJ War Live 2008 3
Reggae Roots culture
Live