By: johnhammond
November 19, 2006
Categories: Events
24mo TORINO Film Festival. 10-18 novembre 2006.
http://www.torinofilmfest.org/home.php?lang=ita

The current edition of the 24th Turin Film Festival, invited the documentary Anger Me directed by Elio Gelmini and produced by SEGNALE DIGITALE and A Few Step Productions, featuring independent film director Kenneth Anger (1930) and his extraordinary film making.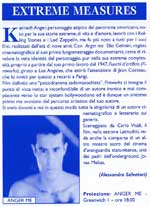 The Turin Film Festival presents itself as meeting point to compare the new international cinema, its various outlooks and artistic tendencies with special focus on the emerging filmmaking and young filmmakers. The screenings of Anger Me, included in the "Latitudes" section, took place on Monday 13, Tuesday 14, and Sunday 18 at Greenwich Village and Wednesday 15 at the Ambrosio theatre. SEGNALE DIGITALE and A Few Step Productions were able to appreciate the warm welcome and vivid interest on behalf of professionals – 'pros' – Italian festivals, film buffs and Anger fans and want to publicly thank Fulvio Baglivi, Davide Oberto and Francesco Giai Via for their activities at the Turin Film Festival which permitted the giving of space and halls to so many Italian independent film experiences.
Reviews
Da REPUBBLICA martedì 14 Novembre 2006.
Torino Film Festival. OMBRE ROSSE. Il Dietro le quinte di Politica e Teatro. di Steve Della Casa Presidente di Film Commission Torino Piemonte.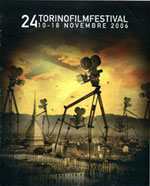 ……………… To read more also serves ANGER ME Elio Gelmini, produced by SEGNALE DIGITALE & A Few Step Productions. It 'a documentary that speaks of Kenneth Anger, the sperimantatore Warhol crazy half-and-half Sisk, capable of poisonous inferences about how charming and satanic Babylon the great machine of Holiwoodiana. Personally I remember him at the Turin Festival and fought with no holds barred with his other associates of the New American Cinema of what the sperimantezione username sixties is still relevant twenty years later. We were in 1985, the hall was Charlie Chaplin. That room no longer exists, lospirito of his Hollywood Babylon was also very faded, but the documentary is very nice ……………………
Da EPOLIS lunedì 19 novembre 2006.
Kenneth Anger: ritratto del cineasta più off di Maurizio Marsico
In the current edition of the Torino Film Festival in the section Latitudes "Anger Me" an extraordinary documentary by the Italian-Canadian Elio Gelmini and produced by SEGNALE DIGITALE and A Few Step Productions in collaboration with the Canada Council for the Arts and the Ontario Arts Council, whose subject is the director cursed Kenneth Anger (1930), his extraordinary cinematography and legendary episodes of his life.
Described by some as the godfather of MTV, Anger has influenced his work with directors such as David Lynch, Francis Ford Coppola and Martin Scorsese short a complex and uncomfortable (but with a lot to say), that no one before had been able to capture and to speak so extensive and detailed as is the case in "Anger Me" (Duration: 72 minutes).
What difficulties have you encountered in the production of the documentary (the author responds Elio Gelmini)? << First of all, we decided to subtitling "portrait" rather than because of real documentary portrait it is. Many have tried and failed to make a documentary about him or with him, because Kenneth is the most radical of radical filmmakers, the most underground of underground filmmakers, and in addition has a character that is difficult to define an understatement. Practical difficulties have been checking the sources, the releases for the copyright of rare images. But the biggest challenge was the confrontation with the artist, past the wall of distrust, so that they feel safe with us and available to talk >> What next for "Anger Me"? << At the moment we turn to international festivals and in early 2007 will realize the DVD that initially will be distributed in Canada and the United States and in Europe >>24mo TORINO Film Festival. 10-18 noviembre 2006.
http://www.torinofilmfest.org/home.php?lang=ita