novembre 3, 2006
Categories: Events
BFI London Film Festival. Novembre 2006.
http://www.lff.org.uk/films_details.php?FilmID=931
Si è tenuto a Londra, dal 18 ottobre al 2 novembre del 2006, la cinquantesima edizione del BFI London Film Festival, rassegna storica dedicata alle grandi produzioni cinematografiche ma con un occhio particolare al cinema indipendente e sperimentale.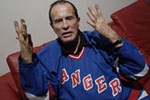 Il festival, organizzato fin da 1957 dal British Film Istitute, una delle più grandi istituzioni europee dedicata alla pubblicazione, alla salvaguardia e al recupero di materiale cinematografico, quest'anno ha visto la partecipazione, nella sezione Experimenta, del documentario "AngerMe" prodotto da "SEGNALEDIGITALE" e "A Few Step Productions" e diretto dal regista italo-canadese Elio Gelmini.Il documentario è stato proiettato il 27 Ottobre e il 29 Ottobre al National Film Theatre con una grande risposta di pubblico di esperti, cinefili, fans e celebrità del mondo dell'arte, della musica e della cultura, confermando quanto sia ancora forte e viva l'immagine e l'opera di Kenneth Anger a Londra.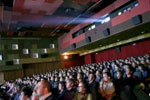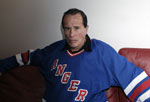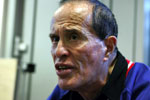 "L'influenza del lavoro di Kenneth Anger va ben al di là di quello che si può definire avanguardia, raggiungendo il grande pubblico attraverso il lavoro di Derek Jarman, David Lynch, Martin Scorsese e tantissimi altri, profondamente colpiti dalla sua cinematografia. Le sue amicizie spaziavano da Anais Nin ad Alfred Kinsey fino ai Rolling Stones. E' stato la vera ispirazione per la canzone "Sympathy for The Devil" dei Rolling Stones." BFI London Film Festival.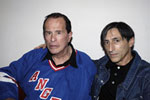 Insieme alla proiezione del documentario "Anger Me" si sono potuti apprezzare anche alcuni dei film di Anger, meravigliosamente recuperati dall'incredibile lavoro di Ross Lipman dell'UCLA di Los Angeles. Il British Film Istitute è stata fondato nel 1933 per promuovere conoscenza, apprezzamento ed accesso alla cultura televisiva e cinematografica. Inoltre è custode del più grande archivio nel mondo di film in pellicola.
RECENSIONI:
A life of Anger. Friday October 27, 2006. Guardian Unlimited
read the full article
Kenneth Anger has not slept in days, maybe weeks; he can't remember. "I don't worry about not sleeping," he assures me.
"Time is all we have and every second that ticks away is one less second we're alive. The sands of time are going through the hourglass but it doesn't frighten me………. Director Elio Gelmini has made a documentary portrait of Kenneth Anger called Anger Me……….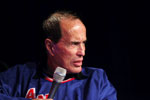 But as Anger digresses, and apologizes for doing so, his tea abandoned, he is not as angry as his image (or his name) suggests. In one breath, he says he's a proud outsider to Hollywood, and in another, he almost gushes: "I loved the young John Wayne. I wish I could have worked with him."As he winds up a long story about Vera Rhuba Ralston, a bit player figure skater and girlfriend of a studio head, he says: "That's a little slice of history. I love the things that have gone by the wayside."
Anger Me. LAShTAL.COM
read the full article
I had the great honour to be invited as a guest to the first UK screening of the new documentary about Kenneth Anger, Anger Me, at the British Film Institute's 50th London Film Festival, where this 72-minute documentary featured prominently in the "Experimenta Avant-Garde Weekend".
Anger looks remarkably well, far younger than you'd expect given that he's in his eightieth year, and was dressed in an immaculate, sober suit…….. ….. Elio Gelmini employs many of Anger's trademark film-making techniques to enormously impressive effect in Anger Me: jump cuts, the superimposition of multiple dissimilar images to produce a remarkable synergy and so on.
The audio soundtrack is absolutely perfect, including a substantial amount of original music together with the pieces extracted from the movies themselves, by Mick Jagger and Bobby Beausoleil, for example……..It's a beautiful documentary, made by committed and intelligent film-makers about a fascinating and, on the evidence of this screening at least, charming individual.
Paul Feazey
Anger Me. Time Out London Issue 1888: October 25-November 1
read the full article
This worthwhile documentary portrait of Kenneth Anger makes a fine complement for the screenings of his oeuvre restored on 35mm and an expected visit from the legend of the American avant-garde himself.
Its best idea is to keep Anger on one side of the frame while he talks us through his work as it plays over his shoulder, and it's hard to think of a better introduction to his very personal celluloid language, combining his interests in paganism, Hollywood glamour and gay sexuality.
Anger devotees may not find much that's revelatory here, but the old boy's certainly a wonderful host – and the only living link between Aleister Crowley, Jean Cocteau, Alfred Kinsey and Mick Jagger.
Trevor Johnston